Minas Cafe offers Brazilian cuisine in Norwood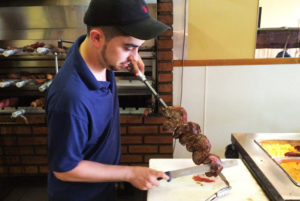 With its selection of steak, pork and chicken, Minas Cafe aims to be a cut above the competition.
The most popular cut of steak is the picanha, also known as the top sirloin cap. Manager Gustavo Silva said it is the most popular cut of beef and Brazil, and that popularity has translated to their Brazilian buffet in South Norwood.
"It's a really soft meat. For people who like fat, it has that fatty outside, but for people who don't like the fat, it's easily cut into a lean steak," Silva said.
When it comes to seasoning the beef, they keep it simple.
"We season it with sea salt. The sea salt helps to hold the juices inside, so the flavor stays in," Silva said. "We don't do any oils here. We keep it simple and authentic."
The picanha is cooked on a rotisserie, alongside the various other meats they have at Minas Cafe. Other steak options include sirloin, brisket and garlic steak, as well as chicken, pork and various sausages. The meats are all cooked over a natural wood charcoal, Silva said.
"It takes about a half hour to cook the steak," Silva said. "It's a process. We try not to have the fire too high or too low. We can't have the high flames on it, otherwise we'd burn the outside without cooking the inside."
They have multiple skewers of meat going at once. The goal is to have meat to whatever taste the customer desires, whether they prefer their steak medium, rare or well done.
"However you like your meat, I try to have it here," Silva said.
As a buffet, the customer can choose their own sides to go with their steak. Silva said there are some staples of their buffet, including a salad bar, macaroni salad, and their popular fried bananas. They go through more than 10 pounds of fried bananas daily. While the buffet changes daily, they try to keep the same selection of meat available.
"I would do rice and beans with the potato salad and the fried banana to go with the top sirloin," Silva said.
Minas Cafe is located at 1241 Washington St., Norwood. About six months ago, they expanded, taking over the storefront next to them. This approximately doubled their seating capacity, which was done in anticipation of acquiring a beer and wine license.
"Soon, we'll be serving beer and wine. We've been approved by the [Alcoholic Beverages Control Commission] and the town," Silva said.
They hope to start serving beer and wine within a month. This license will also change the Minas Cafe menu: previously, they would stop cooking the meats at 6 p.m. Once they start serving alcohol, they'll continue cooking skewers throughout the evening.
"Within a month, we'll have the rotisserie going until night time," Silva said. "Everything we serve at lunch, you'll find it at dinner time."
Minas Cafe is open from 11 a.m. to 9 p.m., Monday to Saturday, and from 11 a.m. to 6 p.m. on Sundays.
News: Wicked Local Norwood
http://norwood.wickedlocal.com/news/20160725/minas-cafe-offers-brazilian-cuisine-in-norwood
http://www.minascaferestaurant.com/wp-content/uploads/2016/12/manager_minas_cafe.jpg
450
671
admin
http://www.minascaferestaurant.com/wp-content/uploads/2016/10/minas_cafe_restaurant.png
admin
2016-12-10 01:32:02
2016-12-22 15:40:04
Minas Café on the NEWS